Our Company
Contact Us
Oilfield Services

Crushing Services

Concrete Services

Safety Program

Job Application (.pdf)


WELCOME to Farden Construction, Inc., Maxbass, North Dakota
Satellite locations in Glenburn, Kenmare, Minot, Mohall, Newburg and Stanley, North Dakota
Three Generations of Experience at Work for You

For Farden Construction, Inc., the list of services seems never ending. Founded as a house-moving company by Ole Farden in the late 1930's, the Maxbass-based company has continued to diversify. Over the years, three generations of Fardens have led the company.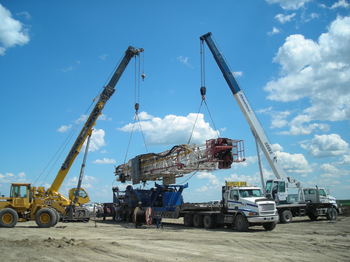 Today, the company is led by Co-Owners, President Steve Farden and Vice President Todd Farden. Their father, Kenny, serves on the Board of Directors as well as their Uncle Russ.

"Adding services has been a huge part of our longevity," noted Todd Farden. "We do everything from fix small water leaks for private residences to municipal sewer and water main projects to large oil field pipelines. That diversification saw us through some rough times and kept the business going.

"Grandpa started out moving houses from farms into town," he continued. "Those houses needed footings, so setting up a ready-mix plant and producing concrete was next on the list. Then Russ bought a backhoe and began digging basements and putting in utility lines. Eventually we moved into site construction for oil fields when oil was discovered in the 1950's. We're still doing all those services, in addition to relatively new areas such as moving drilling rigs and producing aggregate materials for ourselves and a variety of customers in the area. We even do snow removal in the oil fields during the winter."

Farden Construction, Inc.'s main office and shop are located in Maxbass with additional locations in Glenburn, Kenmare, Minot, Mohall, Newburg and Stanley.